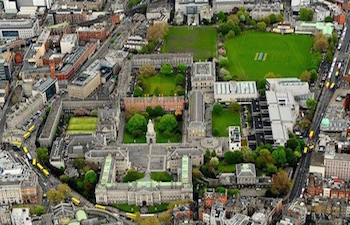 Image with the permission of the Irish Air Corps
TCD Alumni Ontario
Welcome to the website of the Ontario branch of the TCD Alumni. The branch, though based in Toronto, embraces the whole province. From its start in the 1950s, the branch was reactivated in 2003 when over 600 alumni were contacted and presently there are approximately 450 on the College list.
The branch provides a focus for TCD Alumni in Ontario, through various events, to meet one another socially and to network. From time to time the branch also provides updates and information about the College as well as other activities of interest in Ontario. The main event in the year is a dinner, usually in October or November, which is a good chance to meet some of the local alumni. We also have an informal pub nights on the second Tuesday of each month at P.J.O'Brien in downtown Toronto. There are receptions on a less regular basis, such as the one held here by the Provost when he visited in 2017.
We are also a founding member of the International University Clubs of Toronto (IUCT) which is a large association of non-Canadian University graduate groups. There are various interesting activities and events that take place throughout the year which also provide opportunities to network. Information about these event is posted on this website.
This website is regularly updated and provides information about our activities in the last few years. We also have a Facebook page and a LinkedIn page.
Ontario Alumni are invited to get in touch by e-mail with John Payne at trinitydublin@rogers.com with their ideas and suggestions for activities and venues or to offer assistance.
TCD Alumni Ontario Annual Dinner
The Ontario Alumni Annual Dinner is our biggest event of the year and would normally be scheduled for October or November with advance notice of the date being sent out in August and September. In concert with many other organizations cancelling events, regretfully this year's dinner will not take place because of the Covid-19 pandemic. Such an event, even if a suitable location could be found, would unnecessarily expose people to the risks of infection and be severely limited by the restrictions. This will be the first year we have missed since 2003 but we will aim to pick up in 2022.
Oxford Cambridge Society of Toronto
Monthly Pub Night
Location:
The Oxley Pub
The pub night is the second Tuesday of each month.
No RSVP is required.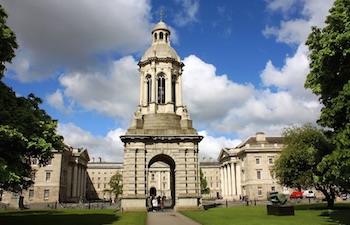 Photo: Brenda Dempsey
Current Events and Items of Interest
Greetings from the TCD Alumni - Ontario Chapter
As a return to P.J. O'Brien is still not advisable due to the sixth Covid wave, for now our Virtual Pub Nights will continue on the second Tuesday of each month. Our next meeting, the twenty-fifth virtual one, will take place on the evening of Tuesday, 10 May at 7:30 pm EDT.
All Ontario Alumni are invited for a chat about what they are or will be doing, their thoughts about current events and, of course, any reminiscences about Trinity and Ireland. On previous calls, the conversation has been lively and interesting with everyone having the opportunity to participate. Calls have lasted about an hour-and-a-half and participants are free to sign in and out at any time.
New participants and recent graduates in Toronto and Ontario are particularly welcome to join - the calls provide a good chance and easy opportunity to see and talk to some of the long standing members of our group. So join in and compare notes in these trying times and think about spring. Let's aim for a good turnout and look forward to resuming in person in the coming months.
Instructions on how to join the virtual pub night are included below. If you have any questions, email me at
trinitydublin@rogers.com
. In the meantime, please keep your distance, wear a mask, wash your hands frequently and stay safe!
John Payne
Chair/Secretary, Trinity College Dublin Association & Trust - Ontario Chapter
How to join the Virtual Pub Night on Zoom
Time: Tuesday, 12 July 2022 @ 7.30pm America/Toronto
Meeting ID: 842 9303 6211
Password: 615743
Click on this link at 7.30pm on July 12th to join the meeting:
Link
TCD Alumni Ontario
TCD Alumni Ontario

Canadian Irish Alumni Network (CIAN)

TCD Alumni Links
TCD Links