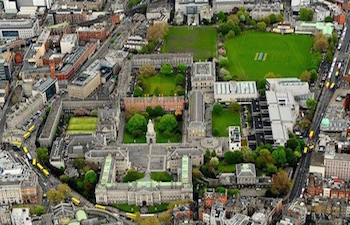 Image with the permission of the Irish Air Corps
Welcome to the website of the Ontario branch of the TCD Alumni. The branch, though based in Toronto, embraces the whole province. From its start in the 1950s, the branch was reactivated in 2003 when over 600 alumni were contacted and presently there are approximately 450 on the College list.
The branch provides a focus for TCD Alumni in Ontario, through various events, to meet one another socially and to network. From time to time the branch also provides updates and information about the College as well as other activities of interest in Ontario. The main event in the year is a dinner, usually in October or November, which is a good chance to meet some of the local alumni. We also have an informal pub nights on the second Tuesday of each month at P.J.O'Brien in downtown Toronto. There are receptions on a less regular basis, such as the one held here by the Provost when he visited in 2017.
We are also a founding member of the International University Clubs of Toronto (IUCT) which is a large association of non-Canadian University graduate groups. There are various interesting activities and events that take place throughout the year which also provide opportunities to network. Information about these event is posted on this website.
This website is regularly updated and provides information about our activities in the last few years. We also have a Facebook page and a LinkedIn page.
Ontario Alumni are invited to get in touch by e-mail with John Payne at trinitydublin@rogers.com with their ideas and suggestions for activities and venues or to offer assistance.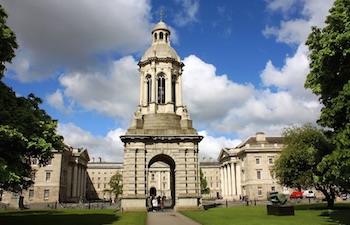 Photo: Brenda Dempsey
Current Events and Items of Interest
Currently changed to Virtual Pub Nights during the
Covid-19 pandemic. Alumni will be emailed
with the details.
As a tribute to Ireland's traditional Nollaig na mBan, on January 6th at 2:00pm, Festival Bloomsday Montréal presented a dramatic reading of "The Midnight Court", "a racy, word-rich, bawdy poem widely regarded as the greatest work of comic verse in the history of Irish poetry". More information under the Current Events tab.
TCD Alumni Ontario
TCD Alumni Ontario

Canadian Irish Alumni Network (CIAN)

TCD Alumni Links
TCD Links